North Shore Productions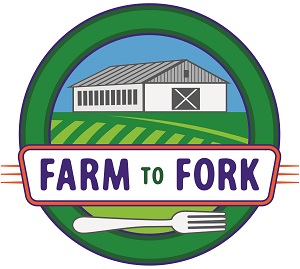 Web home of Farm to Fork.
Here are some comments from affiliates about my work (NOTE: References to The Farm Journal Report pertain to the program before the name was changed to Farm to Fork)...
"It's a great little feature to enhance your farm programming. We carry it twice a day on both our AM and FM stations and get great feedback on it."
Dan Keating, General Manager, KMAV-FM/KMSR-AM, Mayville, ND
"I love the show. It fits beautifully in our programming. We run at 5am and as a feature in our News Block at 12. I appreciate the fact that The Farm Journal Report was available when we had the need. We have one sponsor, the Troy Veterinary Clinic, for the 2 airings."
David Rockwell, Midday DJ/News Director, WHGL-FM, Troy, PA
Audio clip (86 seconds) from Patrick McPherson, Program Director, WLLT-FM, Polo, IL
"What I hear from our listeners most about The Farm Journal Report is that it grabs the attention of everyone, not just farmers. A lot of ag shows focus on just farming. FJR is about the lifestyle and what the future holds not just locally but around the world. From buffalo to bees and gardens without soil, The Farm Journal Report holds your attention."
Kevin Grindstaff, Program Director, WDKR/WXFM, Maroa/Mt. Zion/Decatur, IL
"We love airing TFJR on AM 1100 WZFG in Fargo, ND and AM 1090 KTGO in Tioga, ND because it provides news, insight and education for farmers, ranchers and everyone else in our listening areas. The program is short, so the content is specific and concise. Darrell is wonderful at interviewing his guests and pulling the best information to share on the report. The interviews are also topical for each season, which is great. This is also terrific filler audio for traffic. When station logs are light, or we need to fill longer break times in the early mornings or overnight, we like to bonus TFJR instead of airing the same old PSA's or barter filler. We're grateful to have this type of programming on our station for the agriculture information/education and even entertainment that it provides. As far as gaining additional affiliates. If we operate on a market exclusivity agreement, I'm happy to waive that for the Fargo-Moorhead area so you can ask other stations in and around the metro to carry TFJR. Keep up the great work, we love it!"
Dustin Moore, Operations Manager, Bakken Beacon Media
"The Farm Journal Report is an integral part of our morning ag block on Finger Lakes News Radio in upstate New York. The Farm Journal Report combines news, profiles of today's farming superstars and superstars-to-be and information farmers might be too busy to chase down on their own. The program is well-produced, so our stations sound good and it's sponsored locally, which makes me look good. It's easy to get, just download a single zip file once a week. If you want to add ag programming or improve the ag programming you have, take a look at the Farm Journal Report."
Ted Baker, Program Director, Finger Lakes News Radio, Geneva, NY
"Our relationship with Darrell Anderson covers more than 25 years. His daily farm program has been a part of our morning drive show since the early 1990's. Darrell's knowledge of the farm and agricultural community comes through in each broadcast. Our station is in a heavy agricultural community and Darrell's program not only fits in very well with our overall farm programming, it is also a great way to attract those local and regional ag dollars."
Bill Rice, Program Director, WFIN, Findlay, OH
"The Farm Journal Report is a great addition to our lineup of ag programming here at KLQP-FM. We have been airing Darrell's show for a long time and have always been very pleased with the variety of timely ag topics that are covered. If you're not running it...you should be!"
Maynard Meyer, GM, KLQP-FM, Madison, MN
"We like the variety of topics presented in the Farm Journal report."
Larry Masco, Program Director, KMTI-AM, Manti, UT
"I continue to enjoy the content and local aspects of the show."
Bill Eckersen, Program Director, KMRS-AM, Morris, MN
"Nice variety of topics and features. Good mix geographically. Very professional and well-produced."
Bruce Dierking, General Manager, KNDY-AM/FM, Marysville, KS
"Excellent program. Good variety. Pertinent to our audience."
Dan Baddorf, Program Director, KTCH-AM/FM, Wayne, NE
"Very informative. The program is a good mix with the rest of our farm programming."
Lila Brossart, Owner, KZZJ-AM, Rugby, ND
"Strong production - timely subject material with excellent variety."
Ronald Fruit, General Manager, WRCO-AM/FM, Richland Center, WI
"The shows are professionally produced and contain a wonderful variety of topics, providing something for everyone, from the nonfarmer to the hobbyist farmer to the mega farm."
Jayneece Bostwick, Program Director, WVIL-FM, Virginia, IL and WKXQ-FM, Rushville, IL
To return to the section you were just looking at, please close this window.