North Shore Productions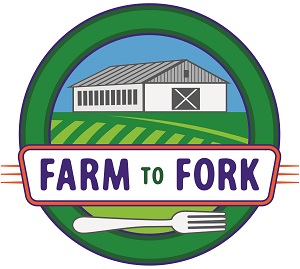 Web home of Farm to Fork.
If you'd like more information about the subjects covered in a show, check the list below for details about recent programs.
November 23: The California Farm Bureau Federation is working with farmers, local water management agencies, and the nonprofit organization Sustainable Conservation, to test proposals for replenishing groundwater supplies.
November 22: A robotic cattle driver was tested successfully at a Cargill beef processing plant in Schuyler, Nebraska.
November 19-21: You can hear the conversation with Beth Nelson and Doug Constance in the Our Farms, Our Future podcast (from 4/15/2018) produced by the USDA SARE program.
November 15-16: You can hear the conversation with Greg Judy and Adam Saunders in the Our Farms, Our Future podcast (from 4/15/2018) produced by the USDA SARE program.
November 14: Elevators and other grain buyers license the mobile app, Bushel, for their farmer customers to use to manage their grain sales contracts.
November 13: You can listen to the full interview with Craig Willis, Senior VP for Global Markets, Growth Energy, here.
November 12: You can listen to the full interview with Daniel Whitley, associate administrator, USDA Foreign Agricultural Service, here.
Novembr 9: Texas AgriLife Extension in Dallas County converted an unused road and bridge facility into a showcase for extension services.
November 8: A study conducted by the University of Minnesota found that a significant number of metropolitan areas in the United States are relatively self-sufficient when it comes to producing dairy, eggs, fruits, and vegetables.
November 5-7: The nonprofit Food Tank held a one-day summit in New York City in October about food waste. You can watch the proceedings here. Excerpts in F2F for Nov. 5-6 came from a panel discussion that starts at 1:00:30 in the video. The Ben Simon talk starts at 1:54:30 in that video.
November 2: Tribine hired a new COO, James Shurts, who's also part of a family farming operation in Beloit, Kansas.
October 31-November 1: North Dakota Soybean Council chair Joe Morken discusses the U.S.-China trade war impact on markets for North Dakota soybeans.
October 30: The National Sorghum Producers is just one commodity group endorsing President Trump's intention to allow year-round sales of E-15 ethanol blended gasoline.
October 29: Visit the Minnesota Pork Board's website to see their promotional video, "Meat of the North."
October 26: University of Tennessee Extension has a video report on cover crops.
October 23-25: The Center for Science and Society at Columbia University in New York hosted "Food, Farming, and Sustainability" in September. One of the sessions was about Women in Food and Agriculture. Learn more here about what Columbia is presenting on the topic.
October 22: Pioneer stresses that it does not engage in the practice of rebranding seed, that is, allowing varieties to be packaged and sold under other brand names. The Farmers Business Network did a study on rebranding last year and updated it for this year.
October 16-19: The Farm Foundation Forum for September was about "The ROI on Higher Education in Food and Agriculture." You can hear the entire session here.
October 15: You can watch the presentation by Dr. Mark Stephenson, director of Dairy Policy Analysis at the University of Wisconsin-Madison, on October 3 at the World Dairy Expo. It was titled "Will the Farm Bill Hurt or Help?"
October 12: Get more about the Newcomb family's Potomac Vegetable Farms in Episode 4 of the USDA's SARE podcast, Our Farms, Our Future.
October 11: Marrone Bio-Innovations in Davis, California, produces biological crop pest controls.
October 10: You can hear more from Texas farmer, Travis Krause, in Episode 5 of the USDA's SARE podcast, Our Farms, Our Future.
October 9: Cortney Cowley, an ag economist with the Federal Reserve Bank of Kansas City's Omaha branch, wrote recently about the impact low farm income is having on farmers' ability to service debt and to even keep up with living expenses.
October 8: New Zealand's livestock industry made the news when the country's prime minister criticized Air New Zealand for serving meatless burgers on its in-flight menus. The head of Beef and Lamb New Zealand also discussed the issue of plant-based proteins in a recent presentation.
October 5: The woolen textile industry is rallying to get public support to convince the U.S. Navy to reverse a decision to replace the traditional wool Navy pea-coat with a synthetic parka. Learn more about the Save the Navy Pea-Coat campaign.
October 4: USDA put out its latest forecast for farm income on August 30.
October 3: Stay up to date on E-15 and other developments regarding ethanol at the AgWired.com website. And, find out more about Growth Energy here.
October 2: Developing a fully autonomous farm is the goal of a Fargo, North Dakota-based nonprofit, Emerging Prairie.
October 1: Farm to Fork is the new name for the show formerly called The Farm Journal Report. Same topics, same length, same guy doing the show. Feedback is always welcome.
September 28: Chris Narayanan operates C.R. Narayanan and Company, an investment banking company focusing on agriculture. He has some thoughts about farmers reinvesting in their businesses.
September 27: Learn more about how a Walmart-owned milk processing plant is contracting directly with dairy farmers in Indiana by going to the September 4 episode of Ag Day.
September 24-26: Check out either the U.S. Farm Report episode from September 2 or the Ag Day television show from September 6 for an expanded report on the labor shortage in U.S. agriculture and other sectors.
September 21: The August 4th episode of U.S. Farm Report has a story about the father-son partnership at Catalpa Farms near Canandaigua, New York.
September 20: The 8/18/2018 edition of U.S. Farm Report has more on the impact that drought has had on farms and on a local machinery dealership in Clovis, New Mexico.
September 19: McDonald's continues to raise its commitment to providing sustainable beef to customers.
September 18: Marathon County, Wisconsin, is home to Hsu's Ginseng Enterprises and the center of 95% of the ginseng exported from the United States.
September 17: FarmMachineryDigest.com is a new educational website created by engine expert, Ray Bohacz, to teach farmers about machinery repair and maintenance.
September 14: University of Missouri Health Care offers tips on child nutrition in a story on AgDay TV on August 21st.
September 13: Anheuser-Busch helps farmers know what is needed from the barley they grow for the company's brewing programs.
September 12: Read (and hear) more about Juan Fleischer, a cattleman from Nogales, Arizona, about his take on the NAFTA negotiations.
September 11: Read what Federal Communications Commissioner Brendan Carr and his colleagues have to say about rural broadband expansion. You can also listen to Carr being interviewed on the AgriTalk radio show.
September 10: The 8/18/2018 edition of U.S. Farm Report has a more detailed story about plans to build a cheese plant in central Michigan capable of processing 8 million pounds of milk daily.
September 7: Josh Brown of Pomona, Illinois, believes in diversification. He has a 70-acre farm that includes three acres of organic produce, 65 acres of managed forest, and two rental cabins. "Farmer" Brown also runs a sound recording studio, creating albums mostly for local musicians.
September 6: A company called Revolution Plastics recycles millions of pounds of plastic from Wisconsin farms, primarily silage bags and bale wraps.
September 5: The Louisiana State University AgCenter has more about rice farmers experimenting with furrow irrigation.
September 4: Justin and Darci Daniels' Garden Valley Farm near Hixton, Wisconsin, narrowly escaped financial disaster early last year. The experience led them to take a value-added, direct marketing path that seems to be working.
September 3: The United States dairy industry's Farmers Assuring Responsible Management (FARM) program is a set of standards for dairy producers, processors, and cooperatives involving animal care, environmental stewardship, and antibiotic stewardship.
Back to Home