North Shore Productions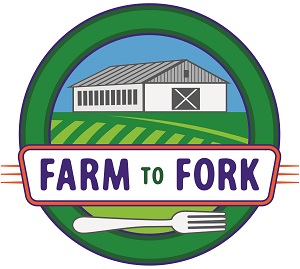 Web home of Farm to Fork.
Here are some links that might interest you. You may have noticed some of them on the site already.
USDA: Home page of the U.S. Department of Agriculture.
Farm Safety 4 Just Kids: Nonprofit organization dedicated to making farms and ranches safer for children.
The Hand That Feeds U.S.: A nonprofit "educational resource for urban media on the importance of U.S. agriculture to the security and future of our country. The project provides information relevant to our nation's farming industry, while also seeking to combat the current misinformation campaigns about food prices and renewable fuels."
Farm Foundation: A "non-advocacy public charity that promotes objective analysis, constructive dialogue, and innovative ideas to build a deeper understanding of issues critical to the future of agriculture, food systems, and rural communities."
AgriWellness, Inc.: Nonprofit founded to "promote accessible behavioral health services for underserved and at-risk populations affected by rural crisis in agricultural communities." Includes rural hotlines in the states of IA, MN, WI, SD, ND, KS and NE.
Fellowship of Christian Farmers, International
Feeding America: Nonprofit food bank network. Formerly known as America's Second Harvest.
Farm Aid: Nonprofit with the mission of keeping family farmers on the land.
Farm Resource Center: A not-for-profit agency providing services to rural families in crisis. 24-hour hot line.
Center for Rural Affairs: A private, nonprofit organization working to strengthen small businesses, family farms and ranches and rural communities.
American Farmland Trust: A nonprofit, membership-based group dedicated to preservation of farmland and to promoting sustainable farming practices.
The Leopold Center for Sustainable Agriculture: A research and education center at Iowa State University. According to its vision statement, "The Leopold center for Sustainable Agriculture explores and cultivates alternatives that secure healthier people and landscapes in Iowa and the nation."
Strategies for International Development: A private and voluntary nonprofit organization which "develops and promotes better strategies for achieving the goals of international development - adequate diet, health, and housing, as well as improved education, employment, and human rights - for all residents in the developing countries of Latin America and Africa."
Sustainable Agriculture Research and Education (SARE): A USDA program that helps advance farming systems that are profitable, environmentally sound and good for communities through a nationwide research and education grants program.
Progressive Agriculture Foundation: Nonprofit founded to help make farm and ranch life safer and healthier for all children through education and training.
Agriculture Future of America: A Kansas City-based nonprofit providing academic scholarships, career planning and leadership training to students who want to work in agriculture.
Bushels of Love: Started by a 12-year-old Kansas farm boy, this foundation seeks contributions from grain sales by farmers and elevators to fund aid efforts for needy kids in the United States and in Africa.
Heifer International: Nonprofit that helps people in developing countries by providing them with livestock so they can become more self-sufficient.
National FFA Organization: Dedicated to making a positive difference in the lives of students by developing their potential for premier leadership, personal growth, and career success through agricultural education. Formerly the Future Farmers of America.
Farm Rescue: Nonprofit that helps family farmers bridge crises so they have an opportunity to continue viable operations.
Renewing the Countryside: A Minneapolis nonprofit which fosters rural sustainability by telling stories about those who practice and encourage sustainability.
AgrAbility: Through education and assistance, AgrAbility helps to enable farmers, ranchers, and other farm workers with disabilities to continue their work in agriculture.
Howard G. Buffett Foundation: According to this nonprofit organization's website, it is a "private family foundation working to catalyze transformational change to improve the world and the lives of the most impoverished and marginalized populations."
Invest an Acre: A program operated by the Howard G. Buffett Foundation where farmers can donate the gross proceeds from the harvest of one acre or more of crop. The money is routed back to a food bank in the community where the donating farmer lives. The program is done with cooperation from ADM and Feeding America.
Back to Home